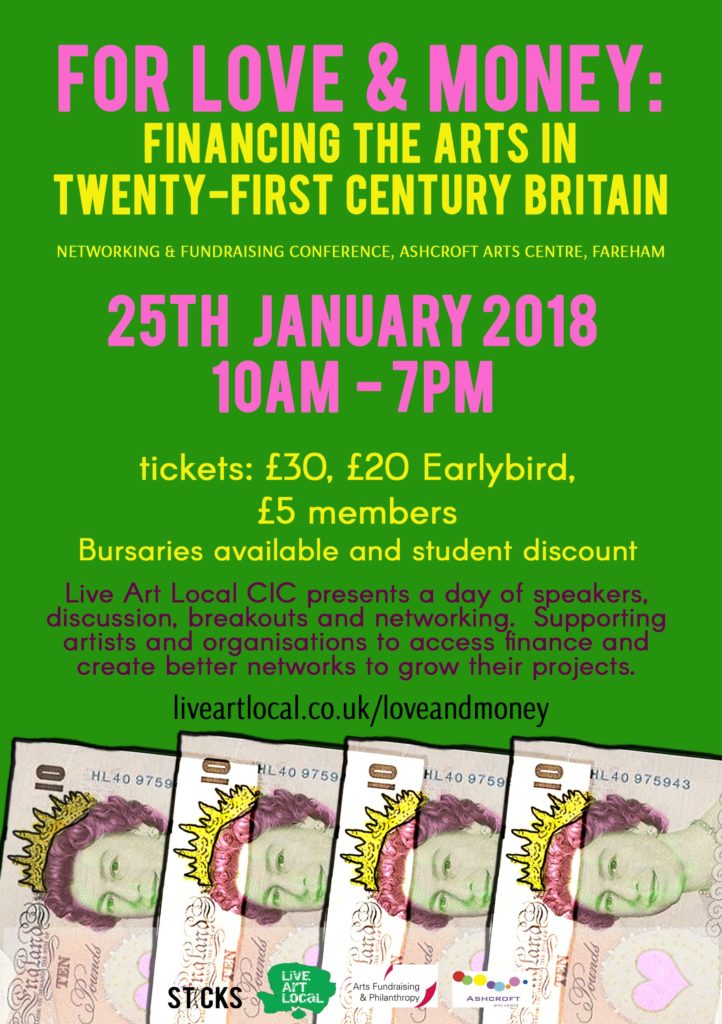 Join us 25th January 2018 for

"For Love and Money"

, a new conference aimed at enabling artists and organisations to fund their projects and build stronger and more resilient networks, supported by *Arts Fundraising and Philanthropy

.
Ashcroft Arts Centre (HCT) are venue partners of 

"
For Love and Money"
  and the entire event will take place at Ashcroft Arts Centre in Fareham Hampshire, the location is easily accessible by train, bus and car and there are plentiful hotels and b&bs in the nearby area.


This one-day event takes place entirely within the centre and will run from 10 am – 
7 pm with lunch provided.    The day will be divided into four sessions with the first session taking place in the theatre and featuring speakers advising on all aspects of funding your projects (from grants to social investment to crowdfunding and more) and building stronger networks.
 Lunch will be provided by Live Art Local CIC and then a series of breakout sessions will take place throughout the centre where delegates will be able to choose from a range of subjects. These will provide attendees with a more in-depth understanding and practical advice that they can then tailor to their projects.
We will then re-convene in the theatre for the closing talk before we move into the bar where delegates will receive a complimentary glass of wine (or soft drink) and a chance to network with their peers.  The bar will also be open so that you are able to purchase more drinks.
Everyone attending the event will receive an information pack on the day and we will continue to work with delegates who wish to create a larger network of artists and organisations in their area and beyond; including launching Action Learning Sets and more.
We will be regularly updating this page with more information.
Tickets are on sale now and there are a limited number of bursaries for those who would be unable to attend otherwise.  If you would like to enquire about a bursary please email ed@sticksgallery.co.uk in the first instance.
Arts Fundraising and Philanthropy is England's national arts and cultural fundraising programme and is backed by Arts Council England.  It is dedicated to transforming our sector's knowledge, skills and success in fundraising,  Live Art Local CIC was one of nine organisations chosen by AFP in April to be supported to create better networks with a focus on helping those in the arts become more sustainable and connected and improve sector resilience http://artsfundraising.org.uk/networks/networks-funding-2017/.