Culture At Home #2: Lockdown Theatre At Home
Last summer Live Art Local invited writers and artists to tender for a commission that would enable people to come together during a lockdown situation and create a performance at home whilst our ability to attend theatre is affected by the lockdown.
We saw this not only as a chance for theatre and culture lovers to have a personal connection to theatre during this time, but also as a way for people who had previously felt excluded from theatre for whatever reason in the past, to come together in their homes, or even with their friends on zoom (this resource is available to everyone) and to create a unique performance, a piece of theatre together to brighten up these dark times, to have a laugh, and to create something new and unique to you!
The chosen entry was an idea put forward by Philip Parr, a freelance Director of Theatre, Opera and Festivals and Director of York International Shakespeare Festival.
We really loved the accessible nature of Philip's idea and hope you enjoy it too!
To access details of "The Theatre of Connection"  click directly on the image below which will take you to a downloadable version.  Live Art Local CIC and Philip Parr retain all ownership of this material.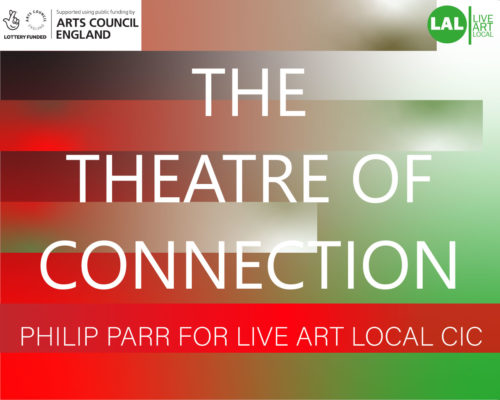 Who is Philip Parr?
Philip is a creative producer with expert experience in programming, project management and as a director of theatre, opera and festivals working both in the UK and internationally. In the theatre Philip has made a particular reputation in large scale community plays, chiefly working as Artistic Director of Parrabbola.
To work with Philip or to find out more about him and his various projects, you can connect with him on Link'd in