Live Art Local artist, Debbi Hyde will be exhibiting at the Southern Nature Art Exhibition this weekend.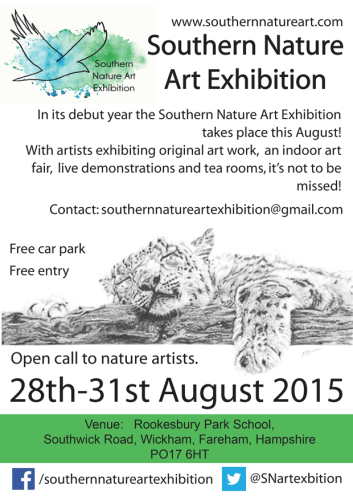 The exhibition runs from Friday 28th – Monday 31st August at the Grade II listed Rookesbury Manor, which is set in fantastic grounds near Wickham, Hampshire.
Entry and parking for the exhibition is FREE,
The Exhibition will be opening its doors to the General Public from 10am till 5pm, Friday, Saturday, Sunday and Bank Holiday Monday.
There will be Paintings and Sculptures in various mediums on the theme of Nature, complementing this will be an Art Market, where you will be able to purchase some of their Prints, Cards and Merchandise.
Artists and Sculptors will also be demonstrating their skill as well as being available to discuss their creations.
A Tea room will be selling Hot and Cold Drinks, Cakes and Light Snacks to complement your day.
Disabled Access available.
We can't wait to see more of Debbie's work, we hope some of you can make it to.
To find out more about the exhibition please visit the website: http://southernnatureart.com/visitors/