Join us this Saturday in Fareham for Fun Palaces weekend.  This is a great International event aimed at getting everyone involved in arts and science.  The motto, "Everyone an Artist, Everyone a Scientist" is at the forefront of each event taking place around the world.
Fareham Fun Palace is the only event happening in this part of Hampshire and we are very proud to be a part of such a great thing…. afterall the arts and sciences are dependent on one another (despite what the current Government believes).  It is that creative spark that creates new ideas, ways of doing things, makes beautiful images, ground breaking computer animation and ultimately, changes the world.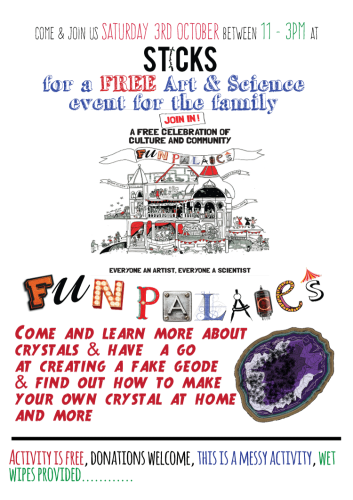 The whole idea behind Fun Palaces is to break down the barriers to arts and sciences, so that science isn't so scary and art isn't held up as something only a certain few can do.  You do not need to know the theory of relativity or the rule of thirds, each of us, everyone is capable to great creativity.
We believe it is important to harness in children and young people this desire to learn and to create. We want everyone to have the same feeling of awe as children do, this is why our fun palace in Fareham is aimed at families with children between 2 and 13.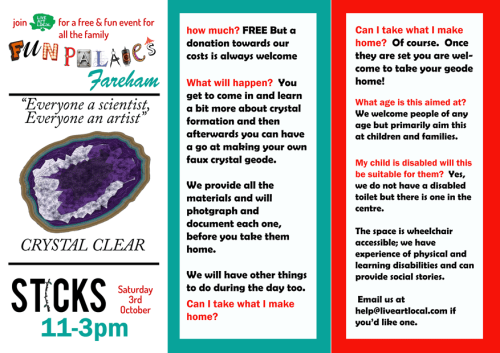 We open on Saturday 3rd October at 11am and then for the next 4 hours you are welcome to drop in and get creative.  For four hours we will be running fun and educational activities tied to the science of crystals: how they are formed; how to grow your own at home and we'll also be making fake geodes.  There are other activities to get involved in too.
All you have to do is turn up at Sticks (opposites Millets in Fareham Shopping Centre) from 11am on Saturday and join in.  The whole thing is free but we do welcome donations.
We look forward to meeting you!