As the Covid-19 outbreak has a huge effect on all our lives, and the world we inhabit gets smaller,  we have decided to make the Fareham Heritage Trail Map available for FREE download from today.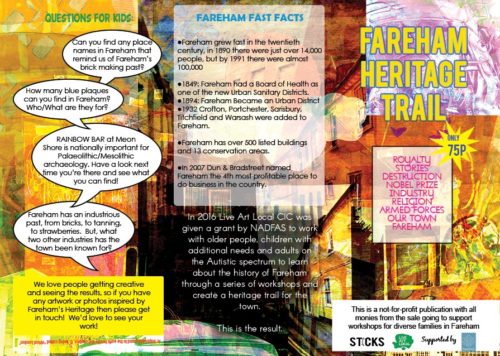 The Fareham Heritage Trail Map was created in 2016 after workshops with the local community (you can find out more via our Projects page)  and provided a journey through the borough's history, from Portchester to Swanwick, much of it acessible on foot.
It recently dawned on us that as people are moving around on foot and exploring their local area more than usual the map could provide a welcome accompaniment to daily exercise and offer a distraction from what's going on in the world, and provide an opportunity to learn more about the rich history of Fareham Borough.
The map can be downloaded as a PDF below, and on our homepage.  Although it is free, as a not for profit hit hard by the pandemic we welcome donations, and you can do so via the Donate button below